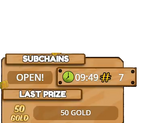 Introducing
Edit
Every time someone subs to Cowsep, the subchain starts. Each subsequent subscriber then makes the subslots spin.
Everyone in chat, not just the subsciber gets the item the subslows shows! The subchain system was introduced on the 31st of July. At launch, there was a huge subtrain reaching 209! This was the largest subtrain ever!.
Ended up with a 209 sub chain. Thanks for watching guys! http://t.co/vlxylotzlW

— Cowsep (@Cowsep)

01 August 2015
Click here if you want to subscribe and participate in a subtrain:
https://twitch.tv/cowsep/subscribe
There are 3 levels of drop tables for the subslot rewards.
Level 1 is from 2~5 subs.Level 2 is from 6~10 subs. Level 3 is from 11+ subs.
The subslot drop tables are:
Level 1
50 Gold (40%)
150 Gold (20%)
250 Gold (10%)
Golden Bull Chest (30%)
Level 2
50 Gold (10%)
150 Gold (10%)
250 Gold (10%)
AFK Chest (10%)
Dragon Chest (10%)
Gambler Chest (10%)
Golden Bull Chest (40%)
Level 3
150 Gold (10%)
250 Gold (10%)
Death Chest (10%)
Cow Chest (20%)
Golden Bull Chest (50%)